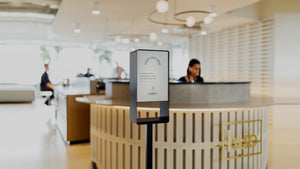 The ultimate touch free
hand sanitising station
A versatile hand sanitisation station that can be customised to your retail, work or home environment. Small footprint, easy to maintain, and a permanent solution to help you prioritise the health and safety of those around you.
Safety first
Protect your staff, customers
and guests
Hands free
Touch free sanitising solution
at your fingertips
Customise
Make it your own with a company
logo and custom message
Location matters
We understand that space can be hard to navigate. With counter, wall mount and floor stand options, Handy Sanitiser can go anywhere. A versatile design that can adapt to your business environment.
Hands free
No need for any unnecessary touching of surfaces. Easy sanitisation at your fingertips, just place your hands under the sensor and allow the unit to dispense right into your hands.
Customise
With an easy to install magnetic print you can customise your Handy Sanitiser to work for your brand. Customise the layout, colours, font and even add a QR code so you can take down the taped up pieces of paper once and for all.
Hidden catch tray
Say goodbye to unsightly sanitiser build up. Excess sanitiser seamlessly passes through the perforations into the catch tray. To clean, simply lift up the grate and wipe away with a cloth.
Smells awesome
Lightly scented with natural essential oils our sanitiser will leave your hands smelling fresher than ever. Say goodbye to sticky, goopy sanitiser that makes you want to wash your hands. Made in Australia from 70% alcohol it's sure to have you coming back for more, time and time again.
Refill and power up
Our easy refill pouches make light work of keeping your Handy Sanitiser full. They are easy to use and less packaging equals less landfill. Each 1L pouch contains 1,000 shots. With limited access to water in certain environments this is an easy, economical and green solution.
Trusted by the best
Dozens of Australia's top brands and organisations look to Handy to keep their hands clean. High quality, great looks and exceptionally smelling sanitiser is why. Join the best today and secure your Handy Sanitiser.